Why we built Hubsource and how it became ChamberForce
Southeast Minnesota's business community is thriving, but something significant is holding us back: workforce.
How can our community fill an ever-increasing shortage of workers, retain more graduates, better serve underemployed individuals, and better match current workers with open opportunities?
For many years, community leaders have talked about potential solutions and made progress on workforce initiatives. Despite positive steps, bolder action is needed.
In mid-2015, the Rochester Area Chamber of Commerce reached out to my team and I to discuss some ideas. The concept was to create an online "hub" of all things workforce that could be leveraged by businesses, nonprofits, community members, college students, outsiders, and locals alike.
The new platform would also need to support and align with existing community workforce efforts.
Is this just another job board?
Not really. Let me explain.
Yes, the platform needed to become an excellent job board, totally free for chamber member employers and job seekers. We also needed to incorporate a workforce resources portal for our regional community and hiring tools for small and medium businesses.
But what if we could create more than just an alternative job board? Something truly better.
We spent close to a year working with our regional Chamber team to turn over every stone, digging into workforce needs and searching for answers.
Our philosophy of "listen first" led us to invest hundreds of hours surveying over 200 local businesses and nonprofits, personally meeting with many of them, and closely collaborating with higher education and regional leaders.
We dug through dozens of national job boards, off-the-shelf platforms, and other workforce tools. Everything we could find.
One persistent issue, for example, was that the Chamber needed to purchase 1500 licenses (one for each chamber member). The few solutions we liked overall were not designed for this sort of volume licensing model, and after a couple of years it would have cost the chamber significantly more than just starting with a custom solution.
Nothing fit.
It was time to make a bold investment.
Building a workforce hub from scratch
Every feature of the platform has been carefully planned and constructed based on community input. Our prototype-first approach enabled us to get early feedback on concepts and make agile adjustments before writing any code.
Our community was extremely helpful in clarifying the short and long-term vision. More than just a piece of technology, this needed to be a platform for holistic workforce growth.
Here is what the platform currently provides.
For job seekers:
Clean and simple filters to find relevant internships and jobs of interest.
Easy application process and personal dashboard to view open applications with status.
Personal job search alerts to find out when new relevant opportunities are posted.
A resources portal with easy to navigate content and links such as local resume assistance, certifications, upskilling, reskilling, finding your dream job, and more.
For employers:
Free unlimited job and internship postings for all chamber member employers (competitive paid options for non-members).
A company branded career page to show off their unique culture and attract better applicants.
An applicant tracking system (ATS) and bulk applicant messaging to improve the hiring experience and save hiring managers precious time.
Simple job application form builder and suggested questions in order to get better applicants and sort them out more quickly than traditional methods.
A resources portal with key information about employee assistance programs, training, veteran hiring opportunities, and more.
For higher-education:
Better connect students with local internships and apprenticeships.
Better connect graduates with local job opportunities, retaining talent long-term.
Better connect with other educational paths such as trade apprenticeships.
Up-sell their own education services via resources portal.
For your area chamber or economic development region:
A truly great regional jobs platform that is robust, clean, modern, mobile friendly, easy-to-use, and free for members.
Custom-branded to align with your chamber or with your regional workforce development efforts, creating a local and authentic approach.
Non-dues revenue via increased sponsorships, advertising, and built-in up-sells such as highlighted job postings and ability for non-members to pay to post.
Increase the value of membership, grow member engagement, and boost 1st year retention.
Help facilitate growth in your local internship and/or apprenticeship programs.
ChamberForce is born
The original "hub" idea has truly turned into a powerful platform for community growth.
Other chambers around the country have shown interest in what the Rochester Area Chamber of Commerce is doing in Southeast Minnesota.
We are passionate about the idea of enabling a local chamber to launch a powerful central workforce platform to help solve workforce gaps around the country.
With the support of our chamber and broader community, we've been given the opportunity to turn the Hubsource project into a full-fledged customizable workforce platform called ChamberForce.

ChamberForce is a community workforce revolution led by chambers. Custom-branded and launched in alignment with your own workforce development initiatives.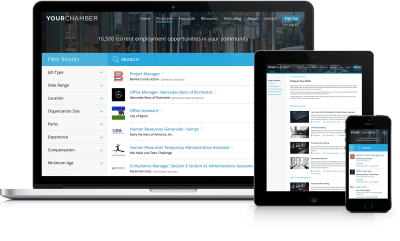 3, 2, 1, blastoff!
We previewed ChamberForce at the 2017 national Association of Chamber of Commerce Executives conference in Nashville, Tennessee.
The response was everything that we had hoped for. Over and over again we heard comments that validated our research such as: "Workforce is a big need in our community." and "We are considering possible technology solutions. ChamberForce really stands out from the crowd."
The first installation of ChamberForce will be publicly launching for Southeast Minnesota in early 2018, branded as Hubsource by our local area chamber.
Closing thoughts about ChamberForce, for now…
The past few years have been an exciting journey. What lies ahead is even brighter.
We're grateful for the opportunity to be working with the largest chamber of commerce in Minnesota- our very own Rochester Area Chamber of Commerce, on such a large and impactful project.
If you'd like to talk about how ChamberForce can boost your area's workforce or introduce us to leaders in your community, contact us or check out the ChamberForce website: chamberforce.com
Or for more about our team's custom web, mobile, and strategy work for small businesses up to larger clients like Mayo Clinic, check out some of our work.
P.S. some exciting news to share! Our company was recently selected as a top national finalist nationwide for the 2017 Small Business of the Year award from the U.S. Chamber of Commerce! To our team, our clients, and our fans: thank you!