Destination Medical Center
An Ambitious New Website for Minnesota's Largest Public-Private Partnership in History
01

:

Overview

-
Background
Destination Medical Center is a 20-year economic development initiative led by a broad group of community leaders including Mayo Clinic, to establish Rochester Minnesota as the "world's premier destination for health and wellness."
As DMC entered the implementation phase of the DMC Development Plan, the need for an engaging website with both form and function was essential. With an ambitious initiative and large range of stakeholders, this massive growth plan needed a fresh new online platform to attract and communicate with leaders, community members, visitors, developers, and investors — locally and globally.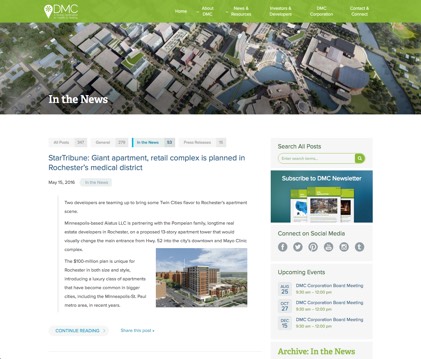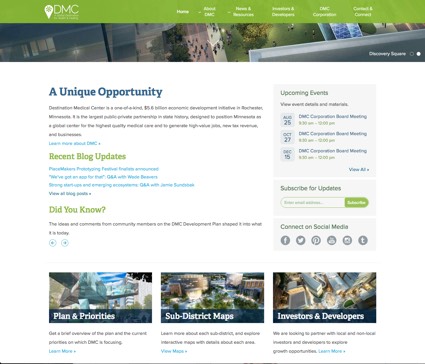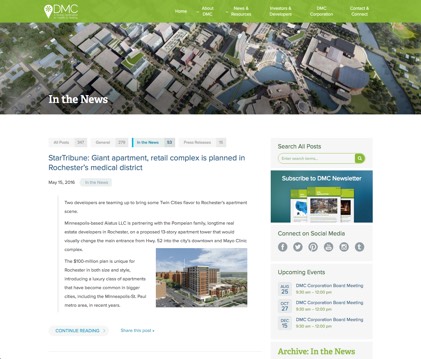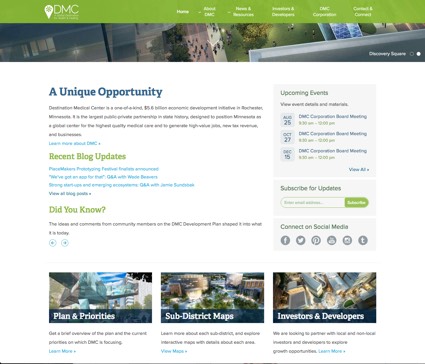 02

:

Challenge

-

Rallying Diverse
Stakeholders
As you can imagine, there were lots of ideas and voices at the table during this project because of the broad community growth DMC is fostering. Communicating a complex initiative in an effective way to a diverse audience is a challenging task. We were eager to dive in.
One of our initial tasks was to establish leadership approval for combining two separate DMC related websites. We then published an online survey that dug into the needs of community members, investors, builders, and DMC Corporation board members.
Our unique but simple survey process enabled us to collect raw insights from a broad range of users in a short period of time. Every bit of feedback was reviewed and combined with the DMC leadership vision to help define our ideal path forward. The survey process also received positive feedback because community members across the spectrum felt like a valued voice in the process. An early win.
03

:

Solution

-

Blueprint
for success
Informed by hundreds of survey comments and great discussions with the project team, we started organizing the key components into a wireframe and then connected the draft layouts into a clickable prototype. This standard part of our process allowed us to test ideas and iterate quickly towards an ideal solution for a broad range of users.
The prototype started very blocky and colorless to ensure everyone stayed focused on usability before shine.
As more details were ironed out and approved, we began adding layers of high-fidelity design right into the same clickable prototype. The DMC team and other key stakeholders were able to review via a private prototype link and provide quick feedback during this entire process.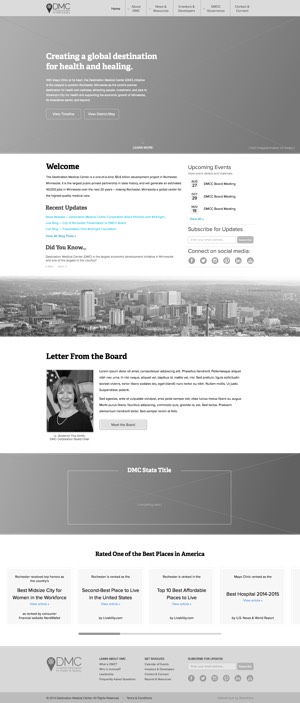 04

:

Solution

-

New
Approaches
We brainstormed a wide variety of potential ways to encourage users to dig deeper into the information and hopefully delight them in the process. Some of the core features we determined to create were a mobile-friendly events calendar, in-browser pdf-viewing, touch-enabled image zooming that created a fluid experience for users on mobile devices such as an iPad or iPhone, and an innovative DMC sub-district maps feature.
05

:

Solution

-

Easy Content
Updates
Many sites with a content Management system (CMS) tend to look stale and, well, the same as other CMS sites. With this new version of the website, the DMC team asked for a system that is very easy to update because of the organic and fast-paced nature of the initiative.
For this project, our CMS of choice was WordPress. As we often do, we customized WordPress in numerous ways to further simplify the content editing experience and enable some of the custom features we designed. Our goal was to make the administrative side of the website as enjoyable as the public facing side.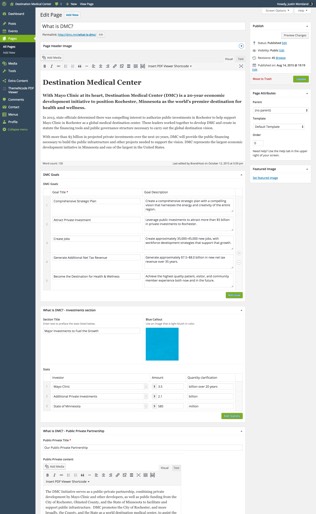 06

:

Solution

-

Metrics &
Analytics
In addition to Google Analytics, we employed a special tracking system that lets us view recordings and specific mouse behaviors of individual (anonymous) users minute-by-minute. These data points have led to a number of key insights and positive actions in the months since the site was first launched.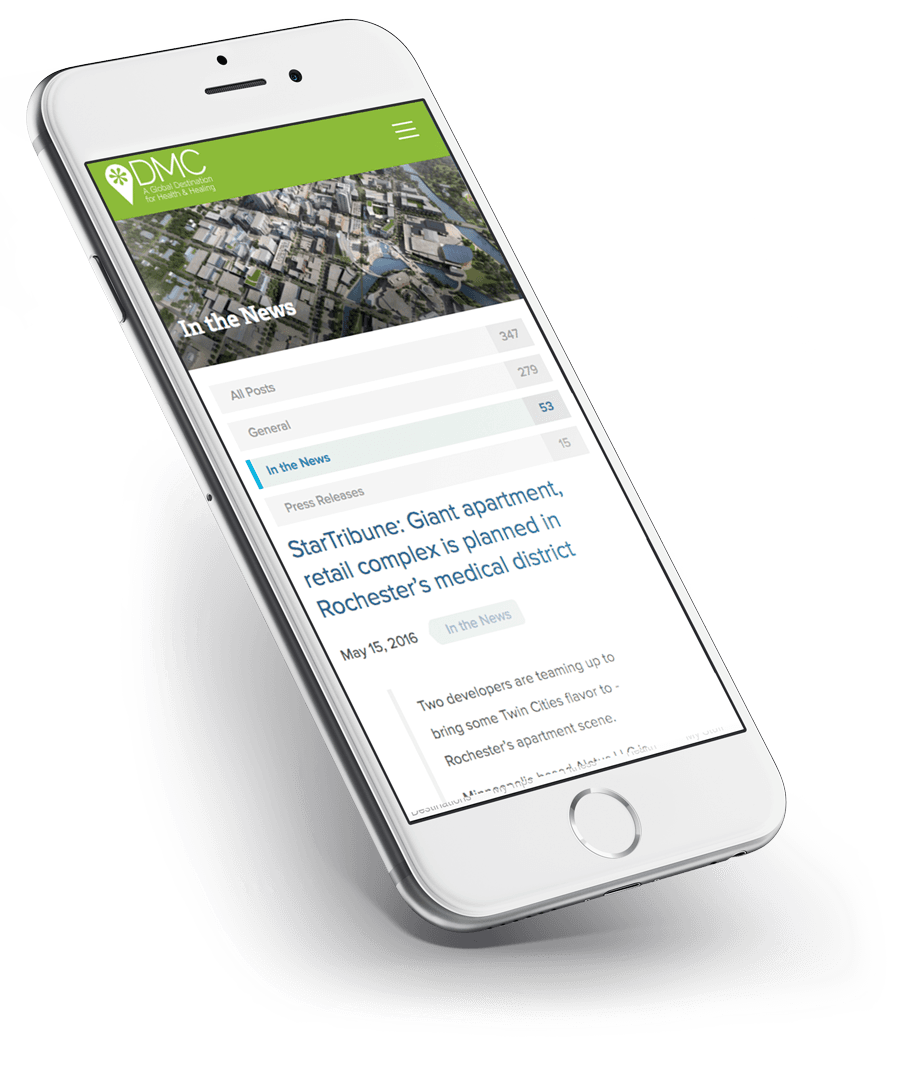 Significantly increased time on site and visitors from over 140 countries
The new site has continued to receive numerous compliments from community members and business executives, but perhaps more importantly, the analytics tell a story.
The maps feature has become the #1 visited portion of the entire website, and continues to hold an excellent average time-on-page at over 3 minutes per user. People seem to be really enjoying imagining what the future of Rochester could look like. It's safe to conclude that our time and energy invested into the interactive maps turned out to be a smart decision. The idea was originally sparked by how many of our survey respondents said they had a hard time imagining what DMC meant for our city.
The DMC vision continues to shine through the lens of members of the community. The DMC blogs are a key vehicle in sharing the progress of DMC, and we can see that people from over 140 different countries have visited the website in recent months. The overall site engagement has continued to remain strong.
Over a year later, the content editing tools we originally built are continuing to function as planned to help site editors easily maintain fresh content.
In addition, the site has often become a key source of material for journalists and publications around the country to write about DMC.
08

:

Impact

-

Thoughts
from the Team
BrandHoot has been an invaluable partner in establishing an innovative web presence to share the vision of DMC. Their industry-leading solutions, great ideas, and outstanding technical support have allowed us to create an excellent experience for our audience.

DMC EDA Team
The DMC team was very collaborative which was great. Brainstorming and then building the interactive maps feature was an exciting challenge because we brought a 694-page report to life in a fun and engaging way. It's rewarding to see our website and ongoing strategy work helping Destination Medical Center achieve such significant growth goals.

BrandHoot Team