An award-winning security company attracts over 200% more commercial leads & another national award
01

:

Overview

-
Background
Custom Alarm provides security systems installation and 24/7 monitoring services for commercial and residential customers in the southern Minnesota community and beyond. They came to us looking for a cleaner, intuitive, and mobile-friendly (responsive) website overhaul. They were also facing aggressive, anti-competitive (and downright misleading) sales tactics from nationwide companies seeking to erode away customers. Custom Alarm needed a bold new online presence that not only leveled the playing field but further strengthened Custom Alarm's regional advantages.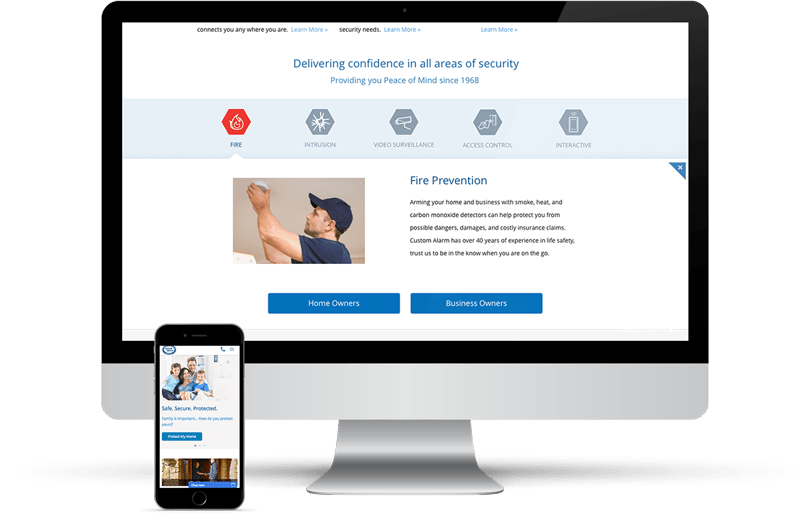 02

:

Research

-

Ask &
Listen
We took the time to really get to know Custom Alarm. We studied their strengths, their brand language, unique opportunities, presented a wide variety of ideas, and discussed key challenges they faced from competition. The original website had awkward navigation and over 75 pages which felt bloated, both aspects which were hurting their inbound leads and negatively impacting potential revenue.
03

:

Solution

-

Moodboards &
Brand Strategy
We started our design process with moodboards to explore a few potential visual themes, including their new brand icons, navigation styles, colors, photography, and page flows. It was essential that the new design reflect the quality and excellent experience of being a Custom Alarm customer.
Early on, the Custom Alarm team shared some new colors and icons being used in print materials, signage, and even service van wraps. We collaborated with their team to determine the best way to integrate these new brand elements into the website in a meaningful and cohesive way. These icons became central to navigation within select pages of the website.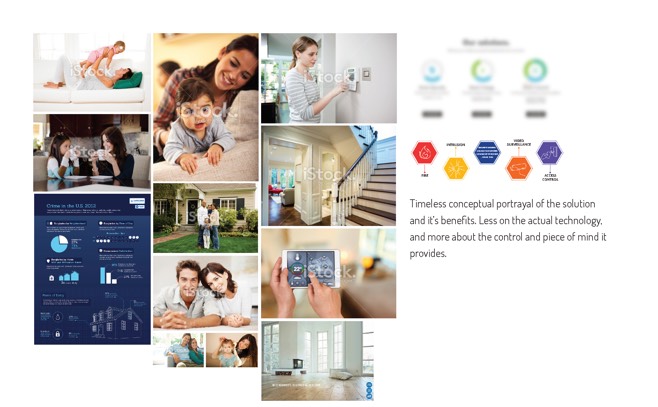 04

:

Solution

-

Wireframes &
Prototype
After settling on a design direction, we moved into our wireframing phase to determine a smart navigation which would meet the needs of both residential and commercial customers. We aimed to provide key information in as few clicks as possible while ultimately encouraging prospects to request a free quote. Lastly, we added live chat to further enhance customer communication channels.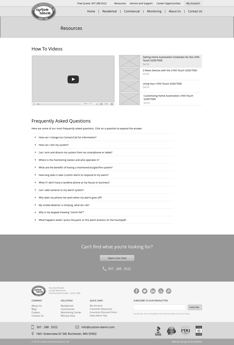 05

:

Solution

-

Mobile & Retina
Screen Optimized
As with any modern website, mobile matters. We confirmed the importance of this for Custom Alarm by reviewing their past Google Analytics. We set out to make the site as easy to use on a phone as on a desktop. From the ground up, we built the site to reflow, and adapt to mobile devices including pixel-dense "retina" displays. Certain things like the scroll-nav on long pages had to be rethought for an equally great user experience on a mobile device.
We even provided a quick pathway to sales questions or support needs on the go by adding a tap-to-call button.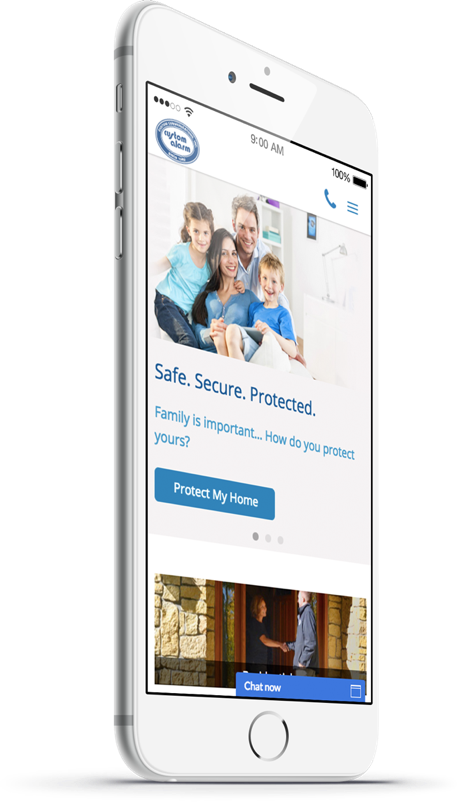 06

:

Solution

-

Phase 2,
E-Commerce
Most recently, we were asked to add e-commerce functionality for some of their core services. Rather than build something from scratch, we leveraged BigCommerce for the platform and connected with Authorize.net for secure payment processing. The net result is that the Custom Alarm team can easily update their online product listings without needing to contact us for support, saving both time and money.
The new site quickly gained positive results, including an over 200% increase in inbound commercial leads through the newly designed commercial sales page and specialized contact form.
About a year after launch, Custom Alarm received a significant award from the National Systems Contractors Association (NSCA) for excellence in business and "differentiating strategies." This was an exciting moment for everyone involved and further solidified Custom Alarm's reputation for innovation and leadership.
Working with Custom Alarm, we were able to deliver a fresh new website that strengthened their competitive advantage, clarified their user experience, and generated over double the inbound commercial leads. Their team was thrilled to have a much-improved platform to share their story and make a great first impression. They continue to receive industry praise.
200% increase in commercial sales leads contributed to revenue growth and an award

08

:

Impact

-

Thoughts
from the Team
We are very pleased with our new website. We started with over 75 pages and now our website is condensed to about 15 pages and easy to use. The improved flow has increased the amount of quote requests and phone calls we receive. In the first three months since our website went live, we have seen about 60% more visits to our commercial page and more than double the sales leads. We added a 'compare packages' tool and the amount of interest in this feature has been overwhelming. I would definitely recommend them to anyone looking to start a new website or rebuild an existing one.

Melissa Brinkman & Sammi Rossi,
Custom Alarm
The Custom Alarm team shared our vision to create a clean experience to better connect with potential customers in fewer clicks. It's been exciting to see the increased inbound leads and national industry recognition that Custom Alarm has recieved because of our efforts together!

Brandhoot Team, Website Designer & Developer
After launch, BrandHoot was awesome, and very prompt in responding so we could set up Custom Alarm's new spam filter. This was important so that we could get everything switched over before a contract with a former company ran out. BrandHoot is the best vendor we have worked with in several years!

Dave, EO Johnson, IT Systems Provider